Live Show: Brooklyn, NY 09-06-13
On September 6, the Mode Machine descended upon Brooklyn, NY for their sixth stop in the North American Delta Machine tour. I flew out from California for both New York shows to meet up with a number of friends, old and new, and partake in what I had been told was historically one of the better North American crowds. Depeche Mode did not disappoint in any respect, but much to the visible consternation of the band, the crowd did not deliver beyond the band's biggest hits.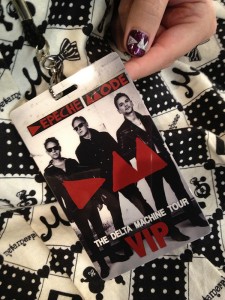 This was my first show of the tour, so I was jumping out of my skin with excitement and pre-show jitters. Seeing the Jimmy Kimmel performance in April was a five song tease that made the five month wait to see a full show even harder. This was compounded by the unknowns surrounding the VIP Nation seating arrangements that we had yet to be given. I had high hopes given the success of my partner in crime at her shows, but I was the one who had purchased these tickets and was concerned my usual lack of crazy luck would result in her first show of the tour NOT in front row (first world Mode Fan problems…). When we opened the envelope, that was indeed the case — we scored second row, and thought we'd be pretty far off to the side from the section and seat number. Our awesome VIP host, Helen, belayed any concerns we had once she showed us the modified seating chart of the venue — due to the position of the catwalk requiring some section shuffling, we were actually second row center, smack in front of Dave! When the show started, the first row moved forward to the rail, giving us plenty of space to dance, a clear shot of the band and, as it turned out, the band had a clear shot of us. 😉
Overall the VIP Nation experience was great. The party was in a lovely modern room inside Barclays, where we met up with friends and mingled with fans. There was enough food and drink to go around, and a fun raffle with a ton of prizes. For more details on the overall VIP Nation experience from the two shows I attended in New York, check out my VIPNation review, coming in a few days. The length of the content within warrants its own post, and I want to focus on the actual performance in this one!
Since this is my first show, some particular songs in the set list will be reviewed, so it could get lengthy and it will be spoilery.
*SPOILERS AHEAD*
Musically and lyrically, "Welcome to my World" was a fantastic opener. The ghostly synths built in a way that perfectly eased the audience into the show, with enough tension and intrigue to be interesting, but not so much as to give away the punch too early. It was just enough that it paved way for "Angel" to blow the lid off and set the tone for the rest of the show.
"Walking in my Shoes" is a personal favorite, so I never tire of its inclusion in the set. I love the fact that the band is playing it differently this tour, livening it up for those fans (and band members?) who may be feeling it is becoming repetitive.
"Black Celebration" was the first of four songs in the set that brought on the waterworks. As I listened and sang along intently, I suddenly remembered that the last time I had heard the song live was at my first Depeche Mode concert ever — little more than 12 years ago. If a weary time-traveller had shown up at that show in a blue box and told me I'd be traveling the world to see the band a decade later, I wouldn't have believed him. So much has transpired in my life in that time! Furthermore, that same concert in 2001 was the first time I had ever heard the song at all (I was still a newer fan), and it was a religious experience. That realization made this moment particularly special.
"Soothe My Soul" was absolutely rocking, just as it was for Kimmel! I bounced and danced so much that I regretted I hadn't taken my inhaler before the show… I ran out of breath in a major way! I really hope this becomes the set list staple it deserves to be on future tours.
Another song that pushed me over the edge was "But Not Tonight". I knew it was coming, but that didn't make it any less powerful. First, there were the memories — this song was a ringtone I put on my very first cell that supported custom ringtones, when I first moved away from home for college. Second, Martin's voice accompanied by Peter's keyboard made for a simple and pure rendition of the song that soaked into my soul. Then, it got even better — when a less-than-stellar sing-a-long from the crowd prompted Martin to bend over and participate in a brief but sweet one-one-one sing-a-long with me. It was if he was saying "Yes, that's the way to do it!" Immediately after the song, Dave came out and pointed right at Tara (with a flail toward me) and whispered something to Mart, to which they smiled and laughed. We only wish we knew what they said — they probably thought we were high on crack. By this point, Dave and Mart both were giving it all they had to command the stage — it was heart-breaking that the crowd just didn't seem to get it. Tara and I were so frustrated by the subdued front and center section, we tripled our already crazy energy to support the band. Judging by the smiles and eye contact we got throughout the night, we are pretty sure they noticed!
The crowd started to come out of hibernation for "A Question of Time", suddenly exploded for "Enjoy the Silence" but mellowed just a little for "Personal Jesus". Unfortunately, they seemed to retreat into whatever cave they were sleeping in until "Just Can't Get Enough" and "Never Let Me Down Again". Stories of the crowd's energy varied depending on the section of the person reporting, but the sing-a-longs were pretty dreadful save for the songs above, and we could read Dave's body language as he struggled to liven them up during other songs, despite his best efforts. (Way to not support your man, New York!)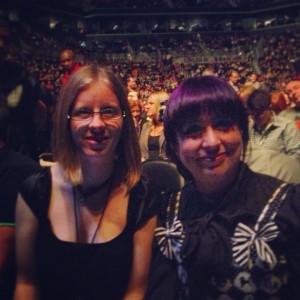 Surprisingly, I also found myself getting teary-eyed during "Just Can't Get Enough" of all things. It was a moment where I was having an incredible amount of fun and felt so alive. Suddenly I was wondering what the strange wet stuff was in my eyes during the goofiest song in the set — it was pure joy. I had missed them so much more than I realized.
I thought the shows during TOTU were fantastic, especially in knowing Dave was going through treatments throughout the tour. But this time they are stronger and sharper than ever. Dave was a firecracker of energy, beaming with smiles (as always). His live vocals sounded better than ever, I am guessing due to the amount of practice he's had to put in for "Delta Machine" itself, the addition of ear monitors this time out. Martin has continued to grow his performance strength, too, stepping away from the mic stand and even pacing the stage at times, with more bravado and projection of his energy to the crowd. This particular crowd did not respond well, but that didn't stop the band from giving 110% like the professionals they are. With everything that happened on the last tour, it is incredibly gratifying to see them so happy and so healthy. We really are the luckiest fans in the world.