Founded in June 2009, this blog originally began as "Blog of the Universe," chronicling the adventures of three girls during Depeche Mode's Tour of the Universe. After their shows had passed, Amanda decided to continue blogging on various DM-related topics. This blog isn't meant to be a news source (there are great sites for that already) but more of a personal op-ed space for DM musings, potentially relieving her fellow forum members from posts-turned-essays.
With acute hobbies such as this, some may question whether DM's hardcore fans have lives. Of course we do! But what is life without passion and adventure to make it worth living?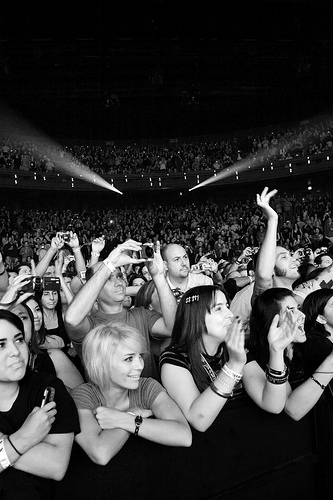 Born in the central valley farm town of Modesto, Amanda is an easy-going person but she loves fun and adventure with friends. She is out-going and (mostly) shameless about the things she loves most. She has a Bachelor of Science degree in Graphic Design and spends her weekdays working for a firm that specializes in non-profit and small business marketing. Amanda lives in Sacramento with her boyfriend (to whom she may as well be married) and two crazy kids cats, Cocoanut and Nestlé.
In her spare time, she volunteers for FanimeCon as their Associate Creative Director, working with a team of artists and designers to create art to promote the annual event in San Jose, CA. Her hobbies include illustration, concert photography, anime, manga, Gothic and Lolita fashion, and music. She also loves cute things, sparkly things, and cute sparkly things.
DM Fan Since: 1998
Favorite DM Album: Songs of Faith and Devotion
Favorite DM Song: "Walking in My Shoes"
From: Sacramento, CA, USA