Counting Everything (so far)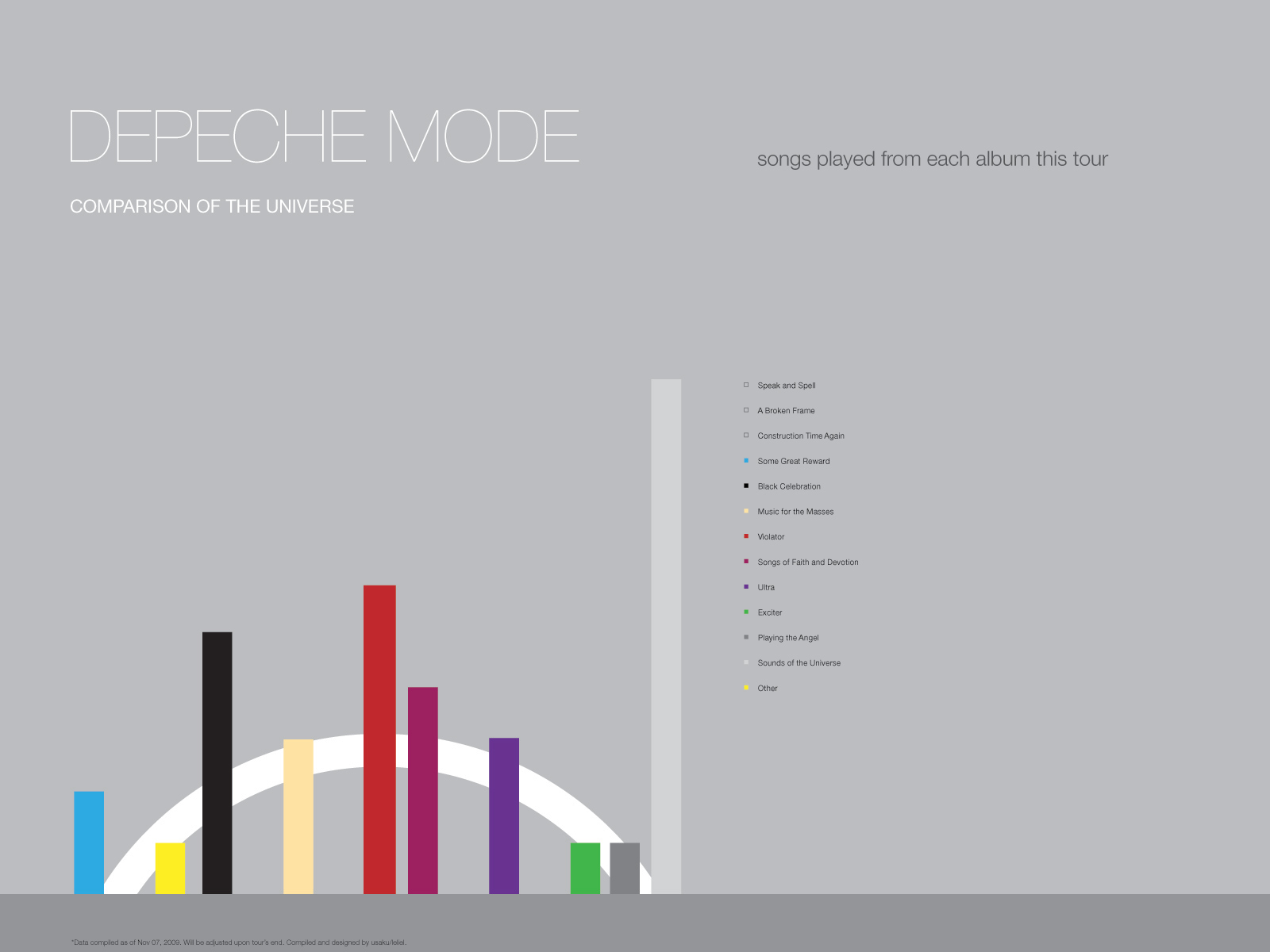 So while I was in a relay thread for today's show in Mannheim, everyone was anticipating rumored setlist shakeups. The topic of the decreased representation of SOTU tracks on what is the SOTU tour was inevitably raised. What are the representations compared to other albums in this setlist? It was an interesting even spread among DM's finest (Violator, SOFAD andBlack Celebration, Ultra) and the new album, clocking in at 3-4 tracks each. Then, someone posted that a total of ten tracks from SOTU have been played over the course of the tour, which made me think that if we step back and look at the tour as a whole, DM have actually covered a quite a bit of ground thus far. I've crunched some numbers and designed some graphics to get an idea of what this spread looks like (because I'm a total nerd like that). I know some of this has been discussed but I think it's interesting to see it visualized.
The song per album break-down data:
Speak and Spell: 0
A Broken Frame: 0
Construction Time Again: 0
Some Great Reward: 2 (M&S, Somebody)
Black Celebration: 5 (FOTW, DIB, AQOT, AQOL, Stripped)
Music for the Masses: 3 (Strangelove, NLMDA, BTW)
Violator: 6 (ETS, PJ, WFTN, WIME, POT, Clean)
Songs of Faith and Devotion: 4 (WIMS, IFY, IYR, Judas)
Ultra: 3 (ING, Home, SON)
Exciter: 1 (Freelove)
Playing the Angel: 1 (Precious)
Sounds of the Universe: 10 (IC, Wrong, HTF, Jez, LS, IS, Peace, CB, MATTI, FT)
Others: 1 (STD)
I recognize this doesn't reflect a per-setlist image; it's not an average. It's a larger look at what the band has tried. Clearly SOTU is the album they are promoting with 10 tracks played (a larger proportion than any other album's tour). Perhaps the lack of SOTU dominance on a per-setlist level indicates they are certainly trying different things in the larger picture, but not satisfied with the results thus far, such as "In Sympathy" or "Fragile Tension." I think the band is on target with playing more tracks from Black Celebration and Violator, two albums that appeal to hardcore fans, general audiences and the band themselves. It also reinforces Martin's pre-tour comments about revisiting BC recently and enjoying it quite a bit. With 5 tracks from the album in one setlist, more than any other album that set, BC fans in Hannover were treated well. The omission of the band's first few albums is no big shock, seeing as how they aren't to fond of their early material. What's been curious is the meager showing from Playing the Angel, which went over well as an album and for the most part really well live. Additionally, since "Strangelove" was replaced by "Behind the Wheel" during the North American leg, MFTM only has only ever had two songs in the setlist at one time, despite being a successful career benchmark.
There are clues and rumors abound about what future setlists may hold. DM are frequently slagged by fans as not shaking things up enough, but I think this has been their most unpredictable tour yet. Sure, they aren't busting out b-sides and non-single tracks left and right, but the North American and so far indoor European legs certainly leave one guessing which combination (or random "oddball," such as "Judas" or "Sister of Night") will get played each night. I don't think we can expect DM to throw caution to the wind and start busting out rare b-sides just yet, but perhaps these are baby steps? Or maybe just a series of odd and unfortunate events, who knows.
(Opinions/analysis based on the context of this tour. Corrections welcomed.)